Cutaneous microbiota
A unique and variable ecosystem
Cutaneous microbiota
THE MICROBIOTA PROGRAM
The human microbiota is composed of bacteria, fungi and viruses that interact with their host. Research on microorganisms inhabiting human skin and forming a finely tuned ecosystem with it is less advanced than that on the intestinal microbiota. Yet, the cutaneous microbiota plays a fundamental role in the health of our skin. Based on its strong historic expertise in skin biology, microbiology and molecular biology, the R&D department began as of 2016 an ambitious research program aimed at the detailed examination of the cutaneous microbiota of healthy and compromised skin: the microbiota program.
Objectives:
Map and characterize the cutaneous microbiota

Develop a strain collection of cutaneous bacteria

Understand bacteria-skin or bacteria-bacteria interactions

Develop natural active ingredients that can protect, maintain or restore the cutaneous microbiota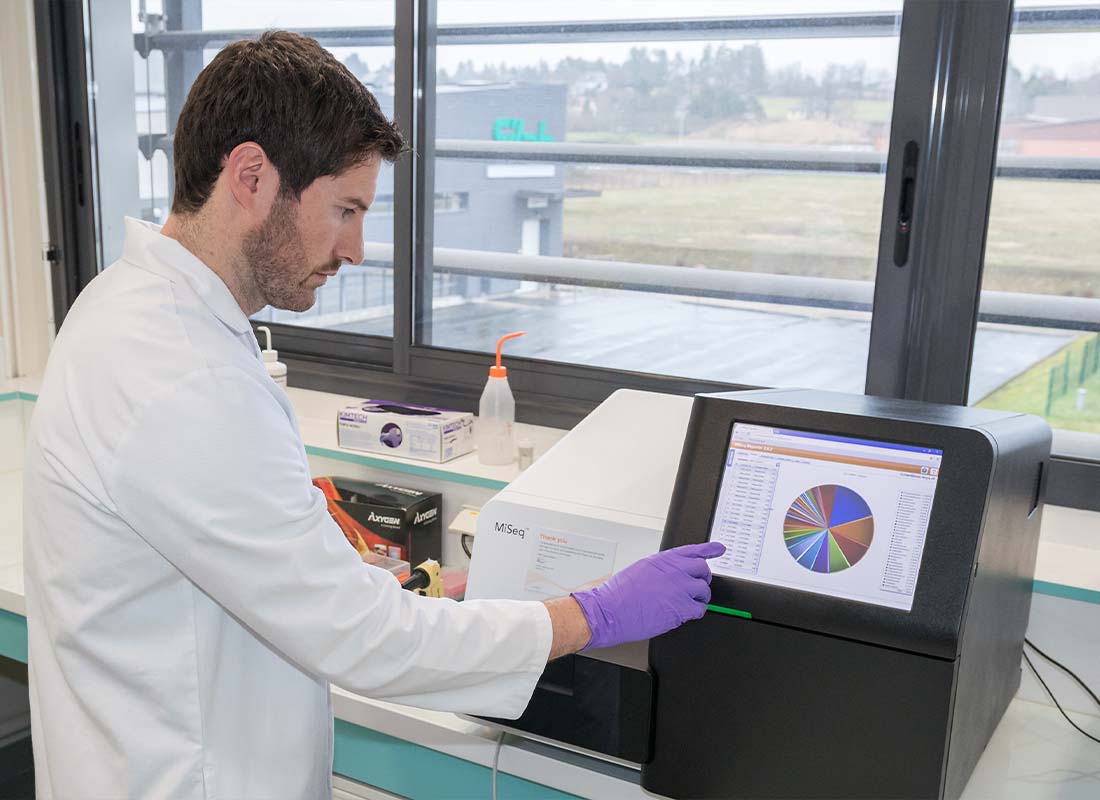 MAPPING THE CUTANEOUS MICROBIOTA
SILAB uses the meta-sequencing tool (MiSeq system) and its molecular biology and bioinformatic experts to map the cutaneous microbiota if it has not yet been published in the scientific literature. Our teams have therefore shown for the first time in basic research that there is an imbalance in the microbiota of healthy Caucasian skin that occurs with age. These results have been published in the Journal of Applied Microbiology [1], after peer-review by experts in the field. The two natural active ingredients ECOBIOTYS® and LACTOBIOTYL® have been substantiated in vivo by meta-sequencing.
[1] Jugé et al., Shift in skin microbiota of Western European women across aging, Journal of Applied Microbiology, 2018 Sep; 125(3):907-916.
SKIN-MICROBIOTA RELATIONSHIPS
Our microbiology experts got inspired by culturomics techniques (growth in selective medium, biofilm production, phylotyping, etc.) to isolate and characterize the bacteria of healthy or compromised skin. These perfectly traceable strains retain the functions of their original ecosystem and enrich our strain collection. Their metabolism and behavior have been studied for a fuller understanding of bacteria-bacteria or bacteria-skin interactions and to test direct antimicrobial or anti-adhesion effects. These bacteria can also be applied alive in 3D models in vitro (SILABSKIN®). Finally, in order to investigate heretofore unexplored pathways, SILAB is involved in a partnership network with internationally recognized scientists in this domain.
SELECTION OF ACTIVE INGREDIENTS
This expertise is at the origin of the development of innovative natural active ingredients that provide the skin with multiple cosmetic benefits.