Using enzymatic hydrolysis in the universe of cosmetics
Enzymatic hydrolysis is a process in which hydrolase-type enzymes cleave a substrate into reaction products using a water molecule. The reaction conditions (temperature, pH, etc.) are specific to each enzyme for its optimal activity.
Enzymes are proteins that catalyze molecular reactions: they initiate the reaction, accelerate its progression and ensure that an identical result is obtained. At the end of the reaction, the enzyme is unchanged and can thus catalyze a new reaction.
The substrate may be a protein, sugar, lipid, all with variable complexity. The reaction between the enzyme and its substrate is dynamic and flexible. Each enzyme has a specificity for its substrate, like a lock and key; this specificity is the primary activity of the enzyme. Beyond this well-known activity, enzymes also have secondary activities i.e. they can cleave substrates other than those initially described.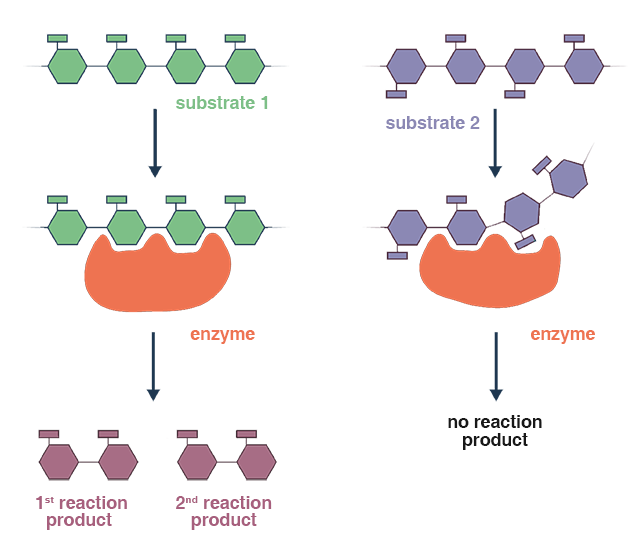 The enzymatic hydrolysis of different parts of plants (flowers, stems, roots) or of microorganisms exposes molecular moieties previously protected inside three-dimensional structures, to release certain sugars or amino acids, or to reduce the size of complex macromolecules.
The choice of the enzyme is based on the nature of the raw material to hydrolyze and the properties of the enzyme. It is also possible to use combinations of enzymes to refine the selection of molecules. The reaction must be stopped at the right time in order to avoid excessive cascade reactions that denature the desired product.
This is done by an irreversible thermal inactivation of the enzyme that modifies its active site. The inactivated enzyme is now simply an inert reaction compound that no longer has an effect on the final product. According to standard ISO 16128 concerning cosmetic products, the enzymatic hydrolysis reaction results in obtaining ingredients of natural origin.
As a result of SILAB's experience with enzymatic hydrolysis for more than 35 years, it has a toolbox of more than 40 perfectly described and controlled enzymes. Combined with rigorous traceability and authentication of natural raw materials, enzymatic hydrolysis enables innovative molecules to be targeted and to propose natural, novel, safe and effective solutions to the cosmetics market. As a result, every year SILAB proposes to the cosmetics market natural active ingredients whose active fraction is obtained by enzymatic hydrolysis.
35 years of experience in enzymatic hydrolysis
Toolbox of 40 enzymes
80+% of the product catalog obtained by enzymatic hydrolysis