Our HR policy
Assistance upon arrival in Corrèze
Our Human Resources team does everything in its power to facilitate the arrival of the company's new talent in the region.
We offer a housing search assistance service. Our local partner defines the search criteria with the employee, selects properties that correspond to his/her expectations, and assists him/her remotely throughout the different steps.
A daycare center conveniently located on the company's doorstep has places reserved for the children of employees. Our HR department extends an offer to meet with the spouses of new employees in order to discuss local employment opportunities.
SILAB also maintains contact with the Corrèze Departmental Council, which offers a support service for settling in the department. A concierge service has been set up to answer all practical questions of future Corrèze residents.
Consult the site (in French): Venez vivre en Corrèze
Welcome and integration into the company
A personalized welcome on the first day allows our new employees to quickly find their way in their professional environment.
They benefit from an individualized integration program during the first few weeks, allowing them to meet their colleagues and identify their interfaces. They also have the opportunity to immerse themselves in certain departments in order to better understand the company's various business lines.
A training booklet, given to employees upon their arrival, gives them a clear idea of job training phases. They are accompanied by a dedicated mentor, and, during the first few months, they attend various training courses designed to help them assimilate the company culture.
The integration process at SILAB... as seen by Anne Domi!
Management
The aim of our management policy is to support employee development in line with the company's strategic projects.
Given that it is the success of each individual that ensures the success of all, individual objectives - established each year - ensure team performance and motivation.
The company has integrated all its activities on the same site (Management, research center, and industrial facilities). This daily proximity ensures an agile organizational model, as well as rapid decision-making and the fluidity of information.
Collaborative tools enable a constant link with the personnel of our international subsidiaries, who are also come to our site in France for specific seminars.
The management policy is associated with strong human values, such as team spirit, conviviality, respect, tolerance, quality of life at work, and professional fulfillment, all of which are promoted by everyone on a daily basis.
Skills development
An ambitious training program
SILAB devotes material and human resources to professional training, in order to enhance and develop the expertise of each employee and prepare for the professions of tomorrow. With a very high level of initial training (38% of researchers, engineers, and project leaders, 57% of senior technicians), the company's challenges are to remain at the forefront of the latest scientific discoveries, integrate new technologies, and develop know-how.
Individualized training plans are drawn up each year, ensuring that the company's level of expertise and competence is constantly raised.
100% of employees attend at least one training session per year.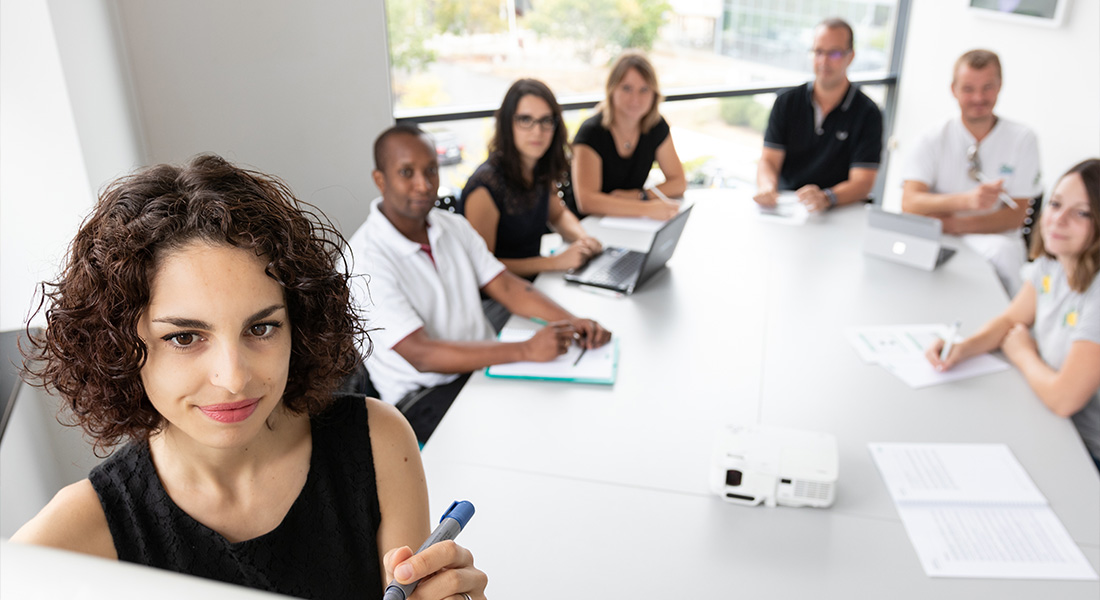 Mobilized material and human resources
An in-house training center, commissioned in 2020, offers dedicated spaces with numerous high-tech equipments. We have webinar rooms, a computer room, a language laboratory, practical laboratories, and a 200-seat amphitheater.
Teaching tools on the cutting edge of the latest digital technologies enable the company to offer its teams quality training and demonstrate its willingness to further develop talents.
Each year, the involvement of more than 80 expert employees enriches our catalog of new internal training modules in all specialties.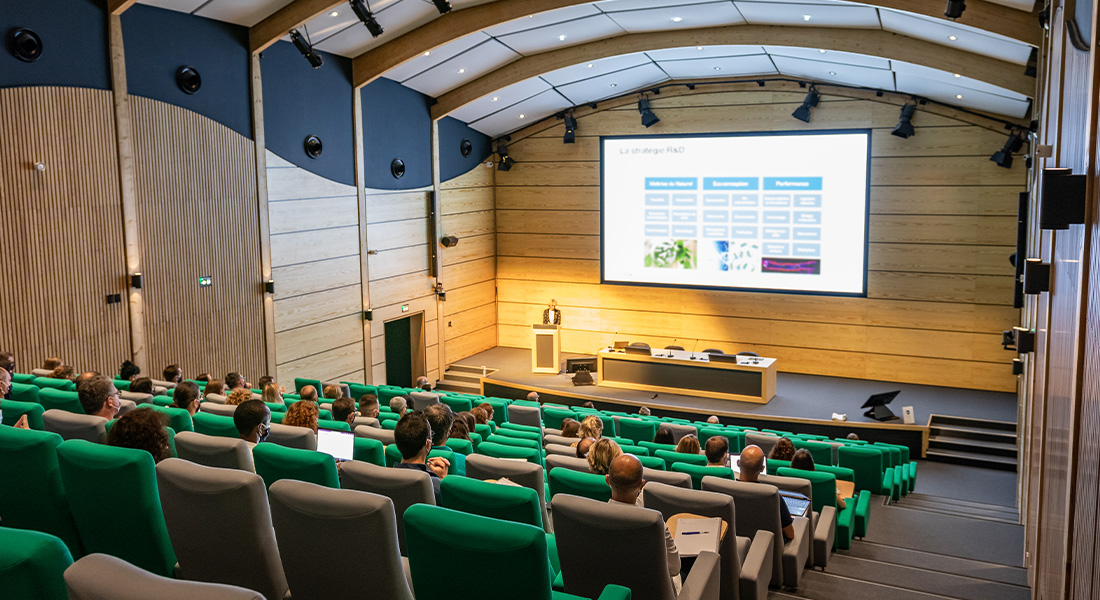 Talent management
Our forward-looking job and skills management policy allows us to strategically anticipate future job trends.
Focused on the future, SILAB is also committed to the training of young people: internships, courses given in schools, company visits, work-study contracts, and research training agreements are examples of the actions carried out by our teams to promote the professional integration of young people.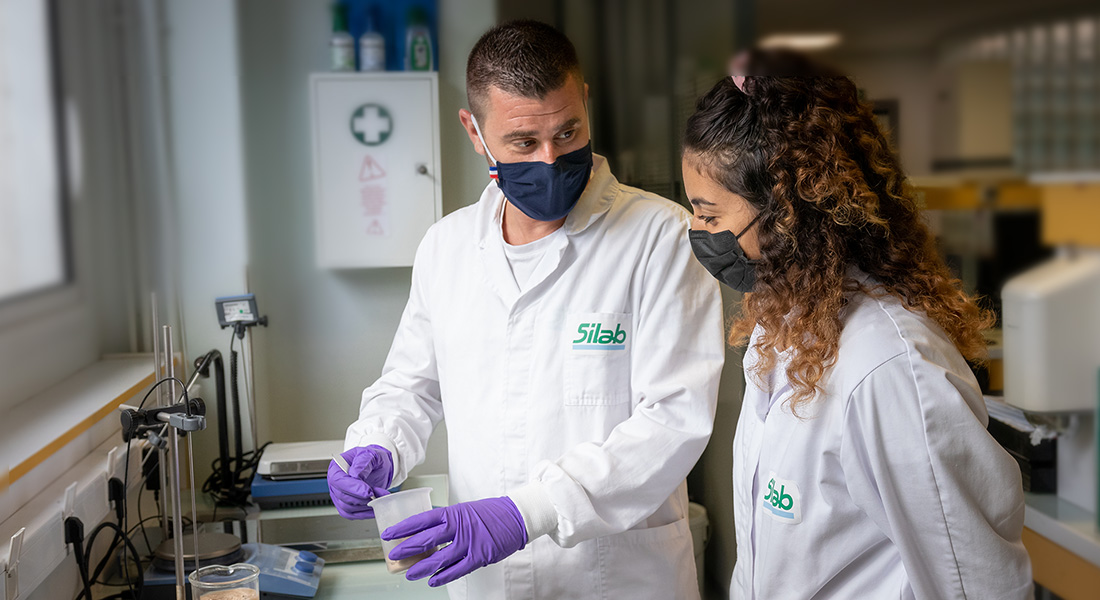 Professional mobility
Having experienced strong, regular growth since its founding, SILAB creates new jobs each year, offering employees opportunities for professional mobility and making them actors of their own development: steady broadening of responsibilities, transition to other business lines within the company, advancement to expertise or supervisory roles, mobility within the group.
In-house and/or external training courses are organized to support the acquisition of necessary new skills.
Equality and diversity
Our Human Resources Charter formalizes our commitments to equality and diversity.
In accordance with its fundamental principles, the company does not discriminate on the basis of gender, national origin, belief, age, sexual orientation, or disability in its HR and managerial processes, whether in recruitment campaigns, career developments, remuneration levels, or access to training.
Our gender equality action plan (linked with the professional equality index), our generation contract, and our adherence to the diversity charter testify to our commitments and enable us to monitor the implementation of the principles of our Human Resources policy, according to which only the skills of our employees and their commitment to the company project matter.
Gender equality at the heart of SILAB's social policy
Index of professional gender equality
| | |
| --- | --- |
| Salary gap | 38/40 |
| Gap in the distribution of individual wage increases | 20/20 |
| Gap in the distribution of promotions | 0/15 |
| Number of women who received an increase after their maternity leave | 15/15 |
| Parity among the 10 highest remunerations | 5/10 |
| Index of professional equality | 78/100 |
SILAB applies strict equality of treatment between women and men in terms of salaries and promotions. Only the work position and skills are considered. Nevertheless, the maximal score was not reached for 3 of 5 indicators, resulting from circumstantial elements that vary from one year to the next. SILAB has decided to communicate its progression objectives.